Selective soldering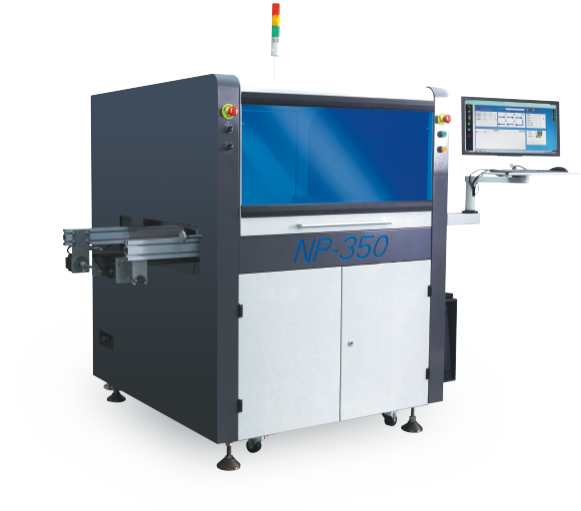 Selective soldering machine NP-350 ALL IN ONE
Through –hole soldering flexible—single point,drag,mini-wave or dip soldering
Exceptional accuracy and repeatable with near "zero defect " soldering joint yields
Programming control and flexibility with computer software
Easy of operations, less handling,small footprint and durable construction
Not upload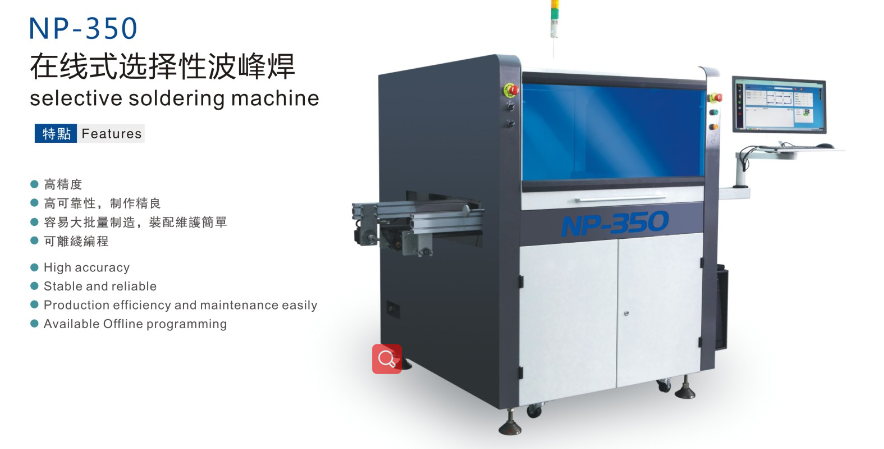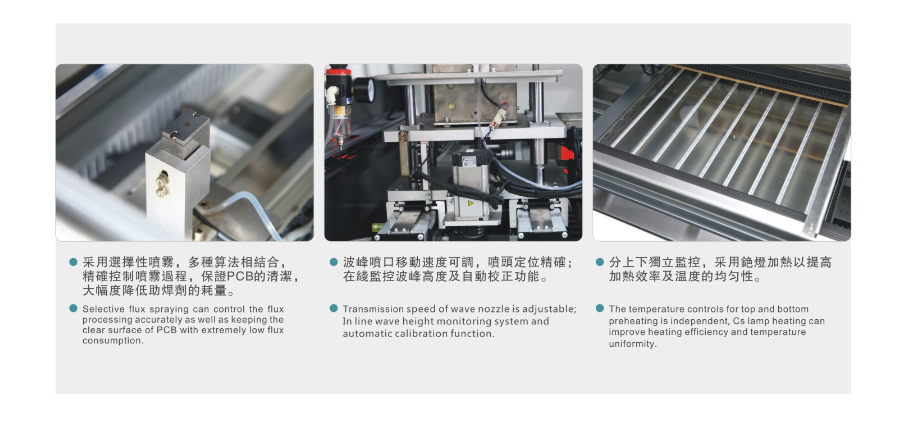 Main parts:
1. Solder pot nozzle
2. With a 130-micron orifice controlled by micro drop jet flux sprayer ( Made in Germany)
3. Preheating zone with flashing quartz IR preheater.
System Benefits & Features
• Precise, accurate, reliable soldering of through-hole components in mixed boards with previously soldered SMT components;
• Reduce board processing time as compared with hand soldering;
• Reduce direct labor costs, decrease rework costs, increase consistency over hand soldering through-hole components;
• One, all inclusive system - Flux, Preheat, and Solder
• PC software interface for easy on instrument setup, programming and parameter control
• Instrument programming flexibility and control over preheat, temperature, soldering dwell times, location, direction, and more...
• Off-line programming with photos can and Gerber import software for convenient machine setup
• Variety of Nozzles available for flexibility - Wettable and Specialty Nozzles
• Lead-free compatible.
Specifications
| | |
| --- | --- |
| Items | Description |
| Model | NP-350 |
| Min.PCB size | L 50mm * W 50mm |
| Max.PCB size | L 300mm * W 300mm |
| PCB top side / bottom side clearance | Max.Upper 100mm and bottom 50mm |
| PCB process edge | >4mm |
| Boards handling system | |
| Conveyor system | Chain conveyor |
| Conveyor heights | 850+/-50mm |
| Width adjustment | 60mm to 460mm |
| Width adjustment accuracy | +/-0.2mm |
| Position accuracy above fluxer, preheater,and solder nozzle | ± 0.1mm (± 0.004") |
| Conveyor direction | Left to right / right to left |
| Preheating system – Bottom side | |
| Preheating temperature | Max.180°C (PCB surface) |
| Temperature control accuracy | +/-2°C@3 sigma/Cpk≥1.33 |
| Heater | Philips Cesium light, independent control |
| Fluxing system | |
| Fluxer nozzle | micro drop jet fluxer |
| Fluxing wet area | Ø2 mm to Ø5mm |
| flux types | alcohol or water based |
| Fluxing Controller | automatic level control with capacitive sensor |
| Selective position method | X-Y Platform |
| Position speed/ accuracy | Max.400mm/s , +/-0.25mm |
| Flux tank | 3L Stainless Steel & Fittings,including Flux Level Montiorin |
| Soldering Unit for Soldering Processes | |
| solder pot compatible for lead free soldering | Standard |
| Min. Neighbor Component Clearance* | 1.5 - 3mm (0.06" - 0.12")depending on nozzle type |
| nitrogen operation | Standard |
| automatic wave height and solder level control | Standard |
| automatic wire solder feeder | Standard |
| wettable and non-wettable quick change nozzles | Standard |
| solder bath temperature | 300°C |
| Temperature control accuracy | +/-2°C@3 sigma/Cpk≥1.33 |
| Solder pot capacity | 12kg lead free |
| Wave heights | Max.5mm |
| Solder pot moving speed | Max.400mm/s |
| Soldering nozzle dimensions | Ø5 to Ø12mm (or customized) |
| Control system | |
| PCB data import | GERB file, Offline file import, Image program |
| Programing interface | Windows interface |
| Power | 220 VAC, 1Ø, 15A |
| Power max.consumption | 2.5kW |
| Max. Fuse Rate | 15A |